This is an old revision of the document!
---
Mail - MacOSX - Útsendiþjónusta/SMTP
Hér að neðan eru leiðbeiningar um hvernig maður stillir útsendingu fyrir Mail á MacOSX útgáfu 4.6 (1085)
Athugið að texti fylgir þeirri mynd sem hann birtist undir. Hafið svo hugfast að orwell@1984.is er ekki raunverulegt netfang og er aðeins notað sem dæmi.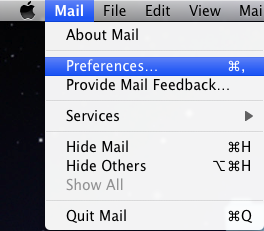 #1 - Veldu að fara í Preferences.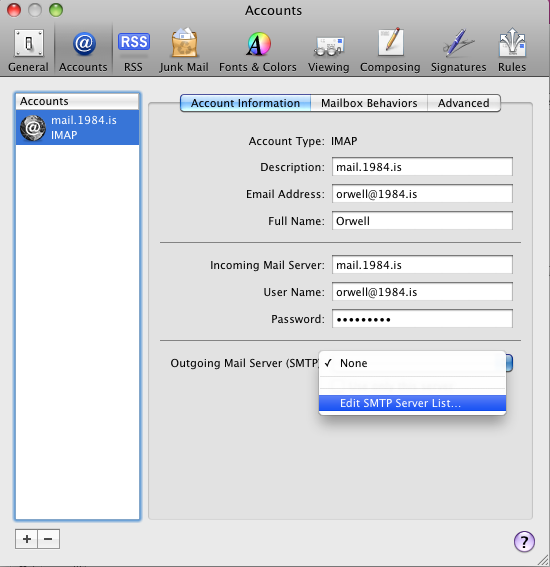 #2 - Veldu Edit SMTP Server List í fellilistanum undir Outgoing Mail Server(SMTP).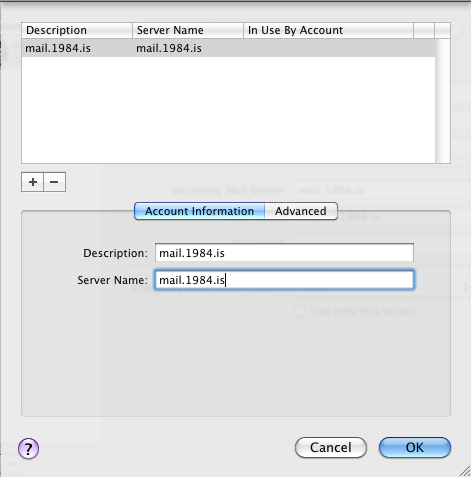 #3 - Ef allt er tómt smelltu varlega á plúsinn. Í Description og Server Name skaltu setja mail.1984.is. Smelltu svo á Advanced flipann.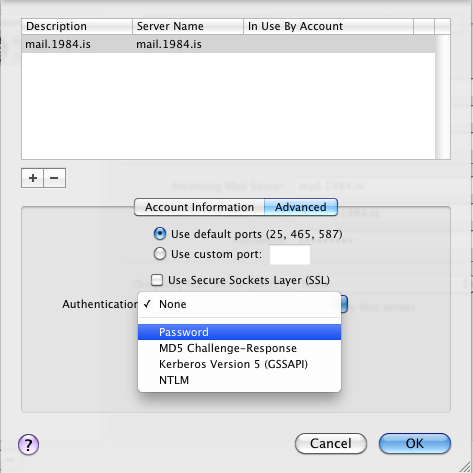 #4 - Undir Authentication skaltu velja Password.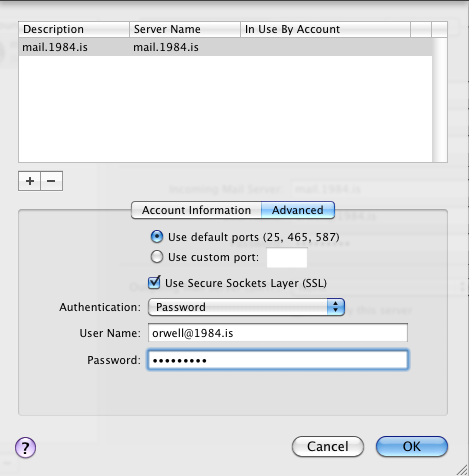 #5 - Veldu svo Use Secure Sockets Layer(SSL) fyrir dulkóðuð samskipti milli þín og sendiþjóns. User Name er svo netfangið og sama lykilorð og fyrir Incoming Mail. Að þessu loknu skaltu svo smella á Ok.
#6 - Síðast en ekki síst skaltu svo velja að nota þessa uppsetningu sérstaklega fyrir netfangið sem um ræðir. Svo skaltu senda póst eins og vindurinn, eða allavega þar til þjóninn okkar heldur að þú sért að spamma og stoppar þig af.