Mail - MacOSX
The following paragraph applies to all the 1984 E-mail services:
Incoming mail server is mail.1984.is. It serves out mail on ports 143(IMAP) and 110(POP). mail.1984.is can also be use as outgoing mail server if you use authentication and port 587 or 465 in stead of the default port 25.
User name, when authenticating either to the outgoing or the incoming mail services, is always the full email address.
Below are instructions for mail setup on Mail for MacOSX version 4.2 (1077)
ATTENTION: The text under each screen shot applies to the screen shot above. Please note that a Video of mail setup on Thunderbird is also available.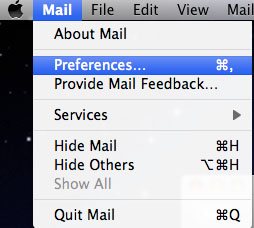 #1 - If the setup wizard does not appear automatically (see #3), please navigate to Mail → Preferences → Accounts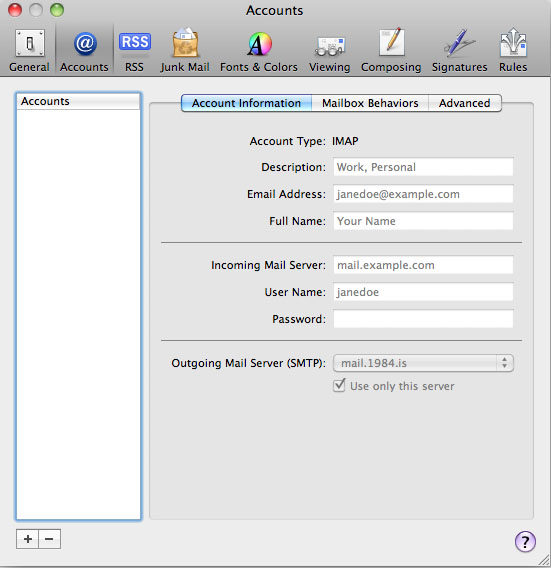 #2 - Click on the plus sign in the lower right corner.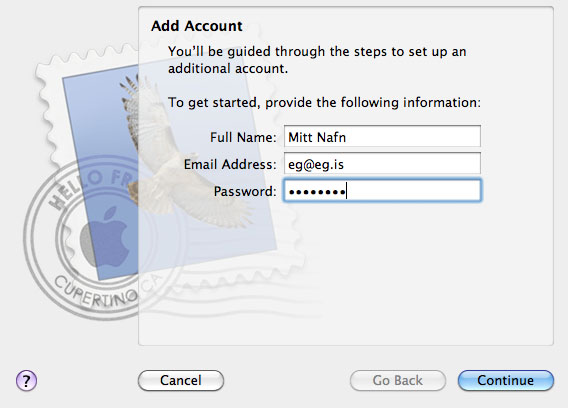 #3 - Insert your name as would like your mail recipients to see it. Under "Email Address" you type the email address for which you are creating this account and then your password for that account.
→ Continue


#4 - For "Incoming Mail Server" under "Account Type" we suggest you select IMAP if you want to have your mail accessible from more than only the Mail email program your are currently using, such as from the 1984 web mail interface @ https://vefpostur.1984.is. You can also select POP, but the POP protocol is not designed to support mail access from multiple places, but it can be convenient to use POP if you think you'll be needing to peruse your mail offline. The POP protocol does not support mail folders except on the device where the POP program resides. We recommend IMAP.
Description: A name to distinguish this email account from other accounts on this Mail program, e.g. the email address
Incoming Mail Server: mail.1984.is
User Name: The full email address, e.g. example@example.com
Password: Your password
→ Continue
"Description" can be anything that , 1984 or 1984 SMTP, or mail.1984.is.
"Outgoing Server": If you want to use the 1984 outgoing mail server to send email, you put "mail.1984.is" in this field. You can also elect to use other outgoing mail servers, such as the service that most ISPs offer. Please consult with your ISP if that's what you want to do.
If you choose to use the 1984 outgoing mail server, please select "Use Authentication" and under "User name" type your full email address and your password.
→ Continue\\


#7 - Ef þú velur að nota mail.1984.is þarftu að samþykkja þessa leiðindarviðvörun í hvert skipti sem þú sendir póst.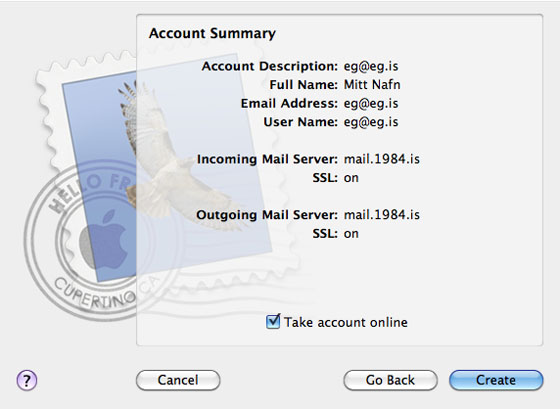 #8 - Svona á þetta líta út, að lokinni uppsetningu.
Nú getur þú sent og tekið á móti pósti hvar sem þú ert staddur/stödd á jarðkringlunni.